Rivalime
174%
INCREASE IN ORGANIC SESSIONS
97%
INCREASE IN TRAFFIC
FORM SUBMISSIONS
About Rivalime
The client is a Datacenter security provider with services like design, implementation, and maintenance of the most exceptional data centre security solutions. 
For reliable help in launching successful online advertising campaigns using data analytics, market research, and digital technologies, the customer opted for a pioneering Digital marketing partner. Digital asset creation, integration, testing, release, and management were delegated to the digital technology partner.
The Challenge
Due to our competency in providing digital assets, supporting digital strategies, and the comprehensive plethora of marketing services (including but not limited to Website development, brand design, and consultation on digital transformation), the client selected Ayraxs as their Digital Marketing Consultation Partner. Our company was entrusted with managing our client's digital marketing and service delivery.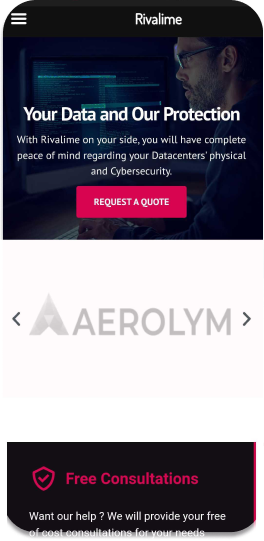 Value We Add
To support digital marketing plans, establish a contemporary brand reputation, and strengthen customer ties through innovative digital advertising techniques. For this client, we developed a comprehensive digital strategy including:
Ayraxs's digital marketing and development team was responsible for selecting the right tools and determining the best way to implement any requested new features. While our in-house Agile methodology enabled us to swiftly adapt to changing situations and integrate feedback from the client, we first gathered project requirements with the customer using the waterfall technique.
After the foundational advertisements and services were optimized for search engines and analytics, content creation with CTAs was done to urge existing and new visitors to make a purchase. Using the most efficient tools, we successfully implemented the three pillars of digital marketing—lead generation, lead acquisition, and lead nurturing. 
To maintain a high email marketing conversion rate, create a set of email flows was necessitated that could be utilized for subscribers at any time.
Results
Ayraxs was an invaluable technological partner for clients' digital marketing plans that depended on the practical and timely distribution of digital assets in tandem with promotional efforts, due to which the client's company excelled. To this day, Ayraxs and the client continue working together. 
Our staff is currently adding new functionality, improving existing functionality, and conducting any required maintenance. Client's Website traffic has risen by 150% owing to our digital marketing services and consultancy, with most users coming from organic search results.