Enterprise Engineering Solution
EES wanted to be the leading provider of cloud solutions/IT consulting services. Ayraxs helped them to analyse, design, and implement digital strategies to be the best service provider. 
300%
Increase in Organic Sessions
131%
Organic Contact Form Submissions
About EES 
The client is an IT management consultant, serving a diverse set of customers worldwide as one of the best consultants in the United States. 
The client needed an agency that would use data analytics, market research, and digital technologies to develop strategic marketing campaigns that would increase the company's visibility and popularity online. As technology partners, we were supposed to build, integrate, test, roll out, and maintain digital assets.
Challenge We Faced
The customer chose Ayraxs as their Digital Marketing Consultation Partner mainly due to our experience in providing digital assets, supporting digital strategies, and the full spectrum of marketing services, from branding and digital transformation consultation to multilingual Pay-Per-Click campaigns. Our company was given oversight of the client's worldwide digital marketing campaigns and digital services.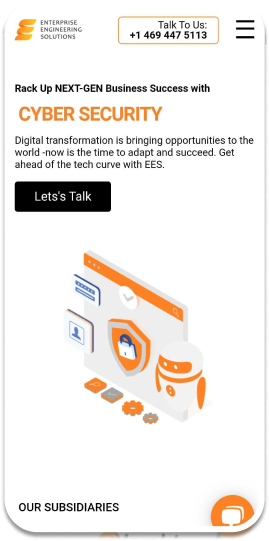 Value We Add
To redefine their image and drive direct engagement with these digital marketing strategies. We developed a comprehensive digital marketing approach for the client.
Our team at Ayraxs was in control of every step of the development process, from selecting the right tools to recommending how best to include any new features. The waterfall was used for requirements discussion and planning with the client. In contrast, Agile was used for collaboration inside Ayrax's team, allowing us to adapt to shifting needs and respond to feedback swiftly. 
Core advertisements and services were developed with Search Engine Optimization and analytics. The content was produced with calls to action that nudged the audience toward purchasing because there isn't one tool that can be used for an entire digital marketing strategy. 
Digital marketing consists of three key components—lead generation, lead capture, and lead nurturing—and we can successfully implement all three thanks to our careful use of the most appropriate tools. To keep the email marketing conversion rate high, we built a set of email flows to remain relevant regardless of when a consumer joins the list.
Results
As a technology partner, Ayraxs helped clients' brands grow by supporting their digital marketing strategies, which depended on the timely and efficient delivery of digital assets that went along with their marketing campaigns. Ayraxs and the client are continuing their collaboration. New features, updates, and maintenance are all being delivered by our team right now.
Our Digital Marketing services have helped the client increase their organic search traffic, which has led to an increase in leads, sales, and proposal submissions through their Website's contact form.