Want to know the right way to optimise your blogs for SEO?
Or are you looking for effective ways to drive more traffic to your site?
In both cases, you have to work on your content and put in effort to make it highly ranked. While you can't ignore the general tips for writing a blog, such as the tone of the content, style, purpose, keyword density, and more.
With the tips we will mention in this blog, you'll find a straight road to rank your blog and drive millions of online visitors per month.
What is Blog SEO?
Blog SEO refers to the practice of optimising your blog to improve its visibility and ranking on search engine result pages. The main purpose of blog SEO is to attract more organic traffic to your blog by making it appealing to search engines.
Blog SEO is an ongoing process that requires research, optimisation, and continuous monitoring. By implementing these practices, you can increase your blog's visibility in search results, drive organic traffic, and establish your blog as a valuable resource in your niche.
How Does Blogging Help With SEO?
Blogging plays a pivotal role in enhancing SEO by offering several key benefits.  Through a well-maintained blog, you can consistently create and publish fresh, relevant content. Blogs allow for the strategic use and placement of target keywords[a], attracting organic traffic, and expanding your site's authority on specific topics.
By using engaging and informative blog posts, you can also encourage external websites to link to your content in order to boost your backlink profile and increase your site's credibility in search engine results. Ultimately, blogging not only helps drive more traffic but also establishes your website as a valuable resource, improving your overall SEO and online presence.
Why is Blog SEO Important?
Blog SEO serves as the key to unlocking your blog's full potential. Optimizing your blog provides a roadmap that guides search engines to make it visible to your target audience. When your blog posts are SEO optimised, they're more likely to rank higher in search results, attracting organic traffic from users who are interested in your topic.
Apart from driving more readers to your blog, it also establishes your authority in your niche. It's the bridge that connects your valuable content with the people looking for it, ultimately helping to grow your brand and impact the digital world.
Anyone looking to make their mark in the vast realm of online content must consider blog SEO a necessity, not an option.
8 Essential Tips for Blog SEO
Have a look at the 8 essential tips that are incredibly helpful to optimise your blog.
Keyword Research:
Keywords are key to online success. Start by conducting thorough keyword research to identify the most relevant and high-traffic keywords for your blog topic. You can use keyword research tools like Google Keyword Planner, SEMrush, or Ahrefs to discover relevant keywords.
Write About Trending Topics
If you really want to earn traffic from Google, you need to write about topics people are searching for. It might seem difficult to find the right topics, but fret not; there are various tools and techniques to use. One of the most helpful keyword research tools is Semrush's Keyword Magic Tool.
All you need to do is enter a broad keyword related to your niche. For example, if you run a digital marketing agency like Ayras and a digital blog, the broad keyword you go with will be "digital marketing."
Then, click on "Search."

After clicking on the search, you'll see the screen below. Click on the "Questions" tab, and you'll come up with the exact screenshot attached below.
Apart from topic ideas, some other important keyword metrics will be available there, such as search volume and keyword difficulty.
Search Volume: The average number of times a keyword is searched each month
Keyword Difficulty: Keyword difficulty shows how hard it would be for you to rank organically in the top 10 search engine results.
PS: If your blog is new and you want to rank quickly, you should focus on topics with lower keyword difficulty. By setting the Keyword Difficult filter to "Easy," you can easily find such (lower keyword difficulty) topics.
Below is a list of topics that are easier to rank for, which means lower keyword difficulty.
Take a look at the complete list, and pick the topics that are relevant to your business and that you can cover.
Get the right search intent
After knowing and finally selecting the topics you can write about, the next step is to understand the search intent. In simple words, the "why" behind searches is referred to as search intent.
Normally, the search intent used for blog keywords is informational, which means the searcher is looking for some information by searching the keywords on search engines like Google.
The best content formats to deliver the right and helpful information to users are listed below:
Definition post

Listicles

Comparison post
You should prioritise focusing on delivering information in those content formats in which searchers are interested.
Another practice is to analyse the top-ranking pages to find out the topics in which searchers are interested.
For example, here are the top results for "How To Choose The Right E-Commerce Platform For Your Business Needs."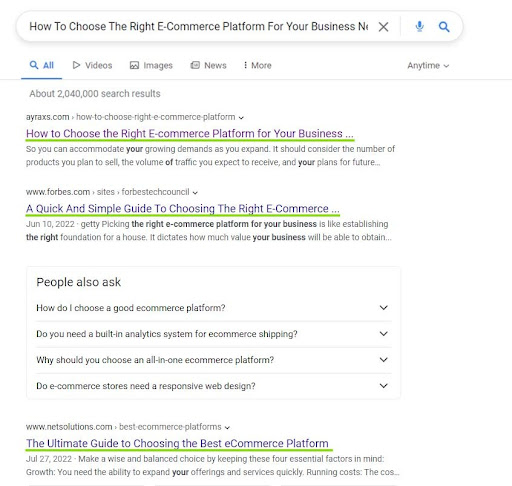 You can see the top-ranking results are guides and how to question. If you want to rank for this keyword, you should likely create something similar but more exciting.
Quality Content
Once you create quality content, Google will likely reward you with higher rankings and more traffic. One thing to consider first is what quality content is for Google.
As per Google's Guidelines, content that is useful, helpful, and interesting for the readers or searchers is Quality Content. Make sure your content is:
Easy to read

Clearly organised

Satisfying the search intent

Unique and fresh

Following Google's E-E-A-T guidelines.
Hiring expert writers to create your content is a great start. Find one whose level of knowledge in a particular field is greater, which will be reflected in their content.
Have a look at the content on this blog, which was created by one of the expert writers at Ayraxs, who has in-depth knowledge and years of experience in content marketing.
The content our writers used to create is not only informative but also useful and well-written. The use of headings and subheadings makes it easier to read and get relevant information about any topic, just like the one below!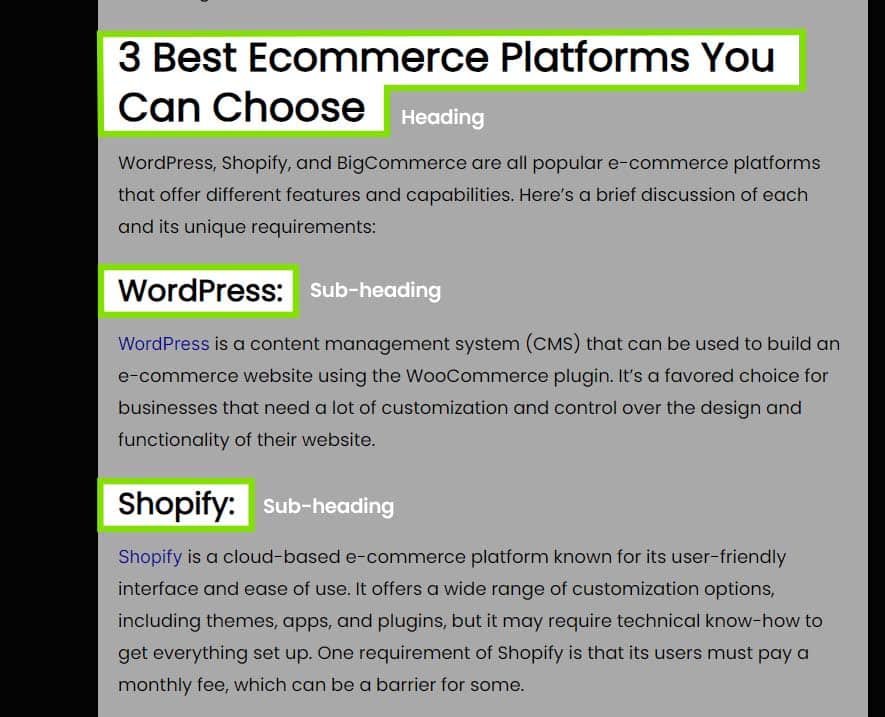 On-Page SEO
While doing SEO for your blog, you'll also need to implement the best practices for on-page SEO. So Google can better understand your content and rank it properly. On-page SEO includes optimizing individual web pages to improve their visibility and ranking on search engine results pages. Here's a step-by-step guide on how to perform on-page SEO:
Title Tag optimisation:

The title tag optimisation is the first thing to optimise your blog. Make sure to include your target keyword in the title tag. Keep the title short (max 60 characters or less). Moreover, your blog title should be engaging to encourage click-through.

Meta Description:

Another thing to consider is a meta description, so include the keyword in your description too. It should also be informative and enticing to make your readers click on it. Keep its length up to 150-160 characters.

Headings (H1, H2, H3, etc.):

There should be descriptive headings to logically structure your content. Use your keyword in the main heading (H1) and subheadings (H2, H3, etc.).

Images and Alt Text:

The use of mages in the content is a way to boost the readers' engagement and enhance the readability of the content. When you use images, add descriptive alt text to images, including keywords when appropriate.

Internal Linking:

While creating content, add a few lines relevant to your previous few blogs that are published on your site. Then insert a link to those relevant pages or blog posts on your website. It not only helps users navigate your site but also improves SEO. Moreover, users and Google can find other relevant content on your website.

URL Structure:

The URL of your blog should be clean, descriptive, and keyword-rich. Don't go with long strings of numbers or symbols that are hard to read and identify. It should be defined clearly as what a reader is going to read in the blog.
It's important to consider that on-page SEO is not a one-time task. It's an ongoing process that involves continuous optimisation, monitoring, and adaptation to changing search engine algorithms and user behavior. To implement the tips mentioned above, installing SEO plugins like Yoast would be the best for WordPress users.
However, hire an On Page SEO expert from Ayraxs to fully optimise your blog. Our experienced SEO experts ensure to use of effective tools and strategies while utilising their in-depth exploration and expertise to benchmark your blog's position in SERP.
Craft Easy to Read Blogs
Readers might abandon your blog or site if your content is hard to read, which is not good from an SEO perspective as well. Solve this problem by providing an effortless (easy to read) reading experience to your readers.
Some of the best and proven ideas are listed below:
Break down a lengthy post using headings and subheadings; it guides the readers as to what to expect from each section.

Adding visuals such as custom images, videos, graphics, and GIFs helps engage your readers. Keep your sentences and paragraphs short to avoid "walls of text".

The use of bullet points and numbered lists helps you provide information in a more concise and easy manner. Write the content using simple words; avoid complex vocabulary and too much jargon to give the readers a better understanding of your writing.

There are various content assessment tools that can help check the readability of your content. You can identify your content by how easy it is to read or understand a piece of content.

Semrush's SEO Writing Assistant is one of the tools used to check the readability of the content. It identifies how easy it is to read and understand content by giving suggestions to enhance it.
By implementing these strategies, you can make your blogs more reader-friendly, increasing the chances that visitors will stay engaged and absorb the valuable information you provide.
Monitor Technical SEO Issues
Whichever SEO tactics you use, it doesn't matter too much if Google isn't crawling and indexing your blogs. There are various other reasons, such as speed. The loading time shouldn't be more than a few seconds.
Such technical issues don't have a positive effect on SEO and your business as well. Using site audit tools to monitor and fix these technical SEO issues is imperative. If you are having difficulty using these tools, hiring an SEO expert would be a winning pitch to get the most out of your blogs.
Hiring an SEO Expert from Ayraxs will give you a seemingly neat solution to resolve all of the technical issues.

Update Older Content
It's obvious that blog content becomes outdated over time. Simultaneously, the search intent of your targeted keywords changed too. Even the related industry changes. As a result of these, your ranking may drop.
At this time, you need to refresh or update your blog posts. At Ayraxs, we do this all the time for our blogs or pages. For example, we recently updated our guide to "The Role Of Automation In Email Marketing."
Download it from our homepage now!
You might be thinking, "How do I identify which blog posts to update?"
You can try putting your previous blogs into Semrush's Organic Research tool and analysing the organic traffic graph.
For example, if we do this for our Ayraxs blog, we see a drop in traffic over time. So there's a need to update this blog, and it will be worth updating.
Have a look at some of the best practices while updating posts:
First, update outdated facts and sources.

Add some actionable advice

Remove sections that are not relevant to your content anymore.

Once again, edit and revise the content with search intent.
Sometimes, it would be best to rewrite the entire blog post. Once you are done with the stated updates, monitor your updated content's progress and analyse your traffic increase.
Want to Optimise Your Blogs?
By following the above tips, which we've explained well enough, you're on your road to progress and improve your SERP rankings. Blogging and SEO go side by side.
Using SEO tools or hiring an SEO expert can help you get there faster and more efficiently.
Ayraxs offers a full suite of SEO services to help you with various SEO tasks, such as keyword research, on-page SEO, content creation, resolving technical issues, link building, and more.
If you are really serious about increasing traffic and generating more leads via blogging, then you should consider Ayrax's SEO services or hire our SEO experts.